Woke up with a desire to ride something different. Millville canyon isn't far, is beautiful, has low traffic and I've only ridden it once. It has plenty of climbing and I would need to ride the Bonneville Shoreline trail to connect to it but I figured if I had time I'd also make a quick run up Providence.
There's a sign at the mouth of Millville Canyon I hadn't noticed before. Today I noticed it – Leatham's Hollow 3.3 miles. It's been a few years, but I have ridden from Leatham's Hollow and down Millville. The ride up Millville Canyon trail wasn't too bad. There are a few hike a bike sections but overall the trail is pretty and pretty doable. Encouraged by the beauty of the trail I determined to continue the climb to the top and drop down Leatham's Hollow.
The Millville Canyon trail stops about a mile short of the junction with Leatham's Hollow. I figured I would be fine taking the road the rest of the way up and I followed some recent bike track which seemed encouraging. I don't know if that rider was Superman, an e-Bike rider or maybe they were descending instead of climbing. Their tracks pushed me onward and up. The road was steep and loose. I was passed by two motorcycle riders who thought me crazy. They were correct. Higher up I ran into a rancher checking on sheep. Farming and ranching run deep in my family roots so I chatted with him for a bit and found out he knows my dad's cousin really well. He also thought me crazy and was right.
Tripping over rocks, climbing and swearing I crested the top of the canyon. I'm sure I unlocked level eternal damnation but the field of wildflowers and spectacular views were worth it. Besides I doubt Hell is any hotter than that climb on a Cache Valley summer afternoon.
Views of Millville Canyon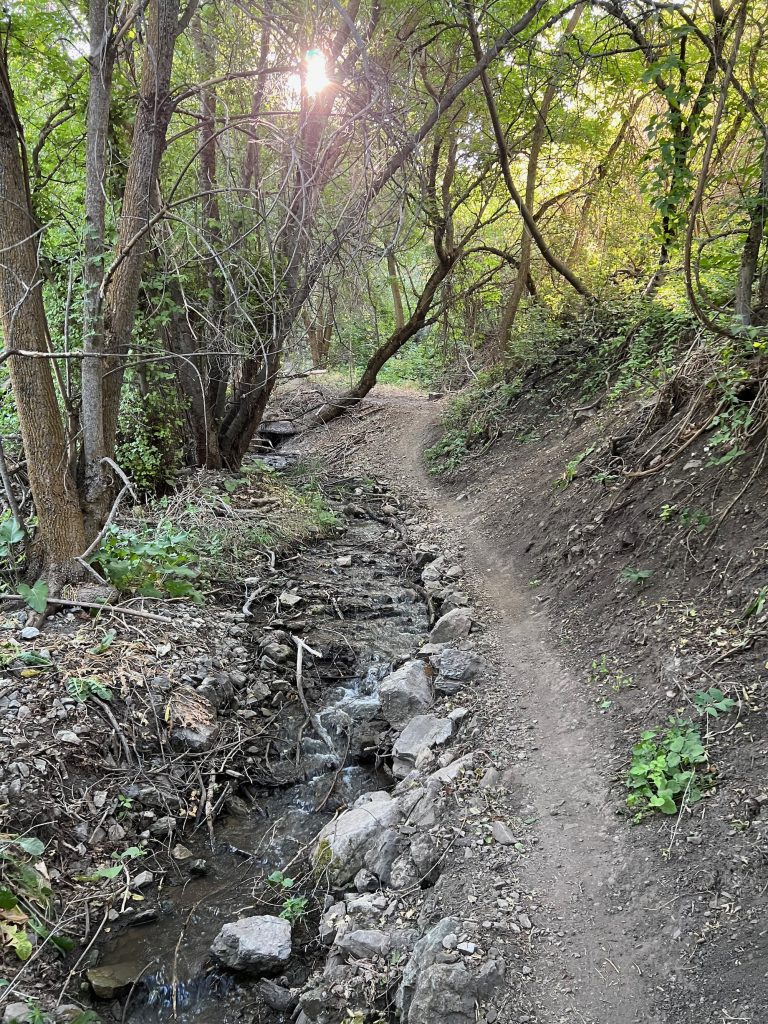 Leatham's Hollow is a gorgeous if overgrown trail that switch backs down into Left Hand Fork. The descent was smooth and pretty fast. The trail was almost invisible in spots where the foliage was working to take back the mountain. Most of the ride was in the trees with only a few exposed sections. The trail is cut into the mountain side and a couple of small sections had broken away. It was all dirt until the bottom section where there are a few moments of rock. Descending was fine. Climbing these sections might mean walking your bike 10 or 15 feet. The Summer ride was spectacular. I made a mental note to come back in the Fall when the colors will be absolutely mind blowing.
View from Leatham's Hollow (going from the top of the trail to bottom)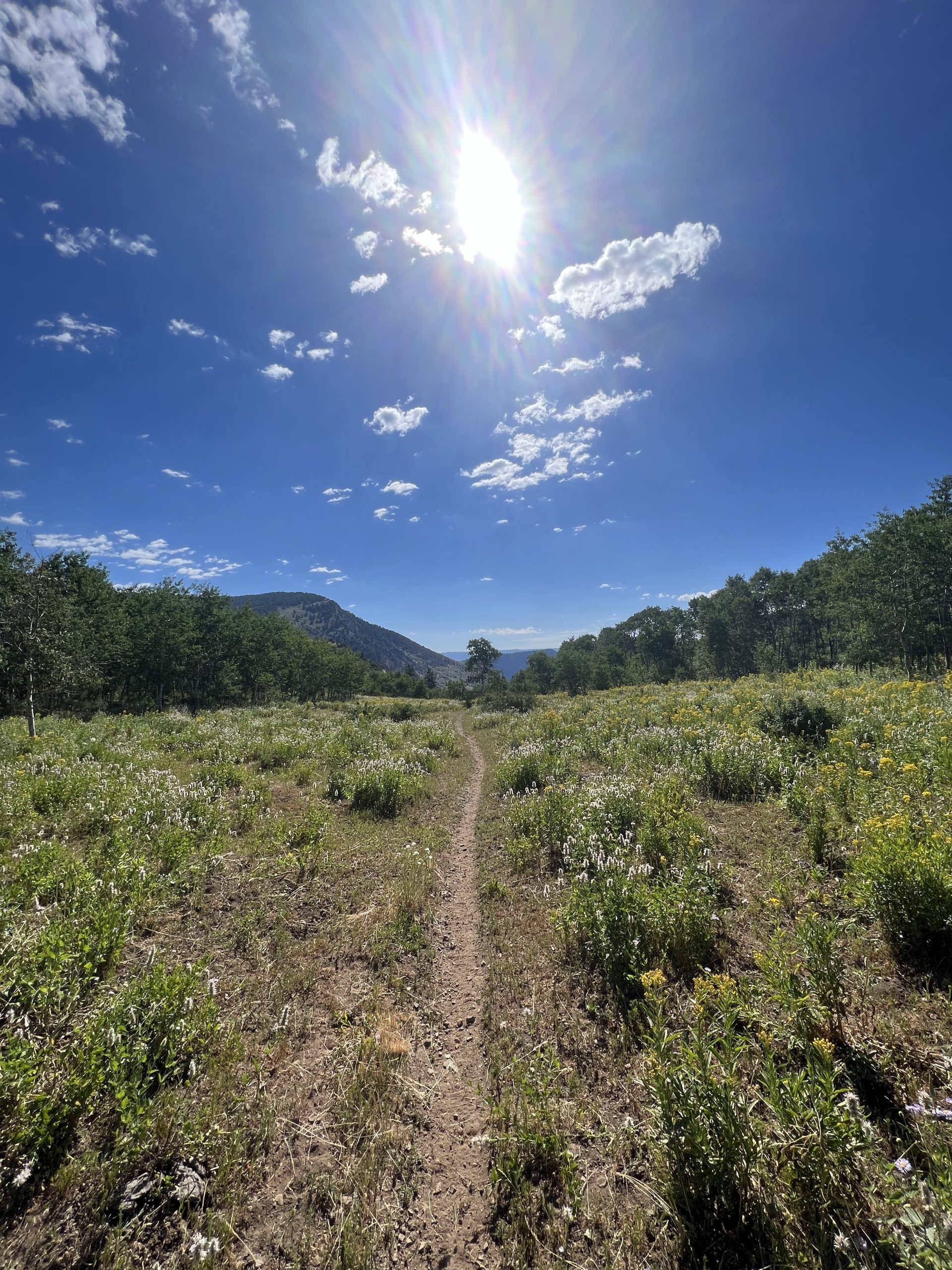 No thought was put into preparation for today's experience and with only one empty water bottle available to me I needed a plan to keep my body from the inevitable consequences of severe dehydration. Leatham's Hollow would be a 4ish mile descent. Exiting Left hand Fork would be another mile or so. Then I would have choice. Ride a couple of miles up the canyon to the the hydro park where there's a water spigot at the park where riders have filled up for years. I had no idea if it would be turned on. The other choice was head for home sans water. I chose the first option. The water was on. I drunk as much as I could and filled my bottle.
I made a quick drop down the canyon on the road until I found a connection with the BlackSmithFork Canyon river trail. It's a short and fully exposed trail on the south side of the river. It was hot.
Views of the BlackSmithFork River Trail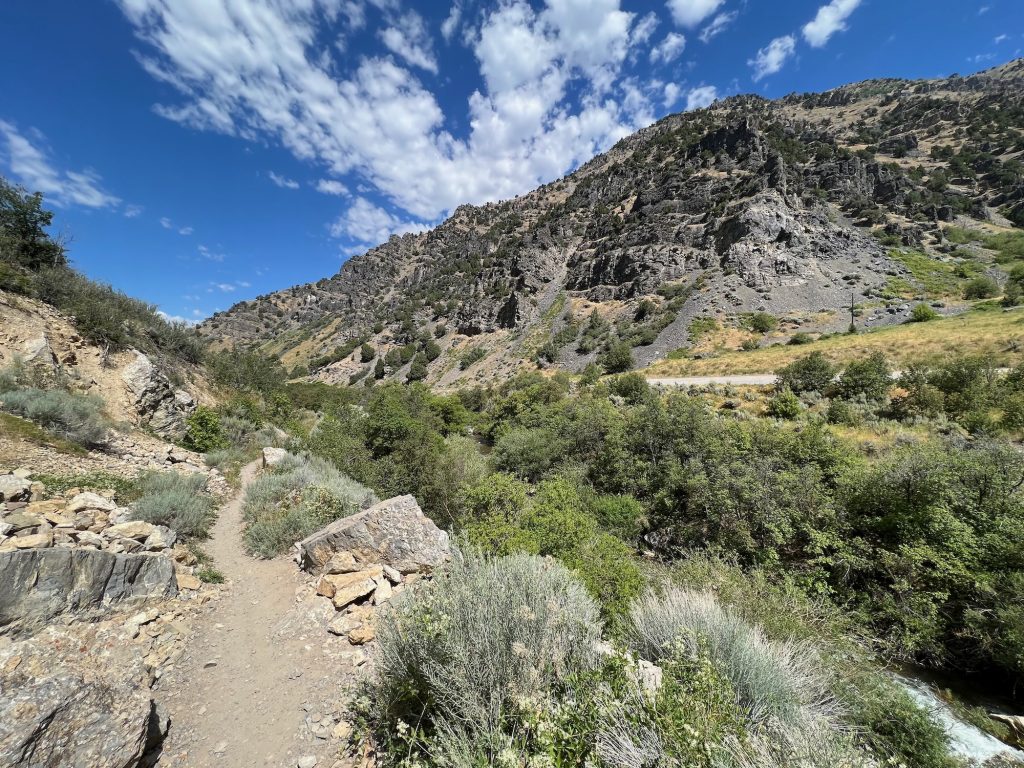 The bottom of the BlackSmithFork River Trail meets up with the Bonneville Shoreline trail. I thought this would be the easy part. I was wrong. Though the trail isn't terrible the miles between where I was (BlackSmithFork) and where I needed to be (Providence Canyon) are not insignificant after spending several hours climbing. Also, the trail faces the West and with the sun in full force and not a bit of shade in sight I was slowly being cooked. What little water remained was almost too hot to drink. Going North to South you are climbing and I cursed each hill and it's mother. I would have taken pictures but at this point in the ride I started to think I wouldn't make it home to post them so I didn't bother.
The ride – Millville Canyon and Leatham's Hollow
The bike – Ibis Ripmo