Speed Mountain hosted the Pivot demo fleet this week at Providence Canyon. I can't resist smashing other people's hardware into rocks and I signed up for a morning test ride on a Mach 4 SL and a Trail 429 for the afternoon. At 9am I did two things I almost never do. First, I drove to the trail head. Second I left the Ripmo in the garage. I like to try new things and the Ripmo and I maintain an open relationship.
Typical of demo events it took a little patience and waiting to get the bike. I actually find it really pleasant that the demo team takes the time to set up the bike perfectly for you. Ironically, I've found that when you purchase a bike that's not always the case and your first few rides leave adding air to the suspension, adjusting tire pressure and constantly adjusting the seat post to get just the perfect combination. Ya, ya, I know that you end up doing all those things even if an expert sets you up but it's not to hit the trail 90% of the way adjusted.
I appreciate that some manufacturers still drive a fleet of bikes around the country so that we the buyers get a chance to try out the hardware on familiar trails before dropping our next 12 mortgage payments on a new steed. The demo day did not disappoint and I feel compelled to record the experience for the next time I get diarrhea of the wallet.
The Mach 4 SL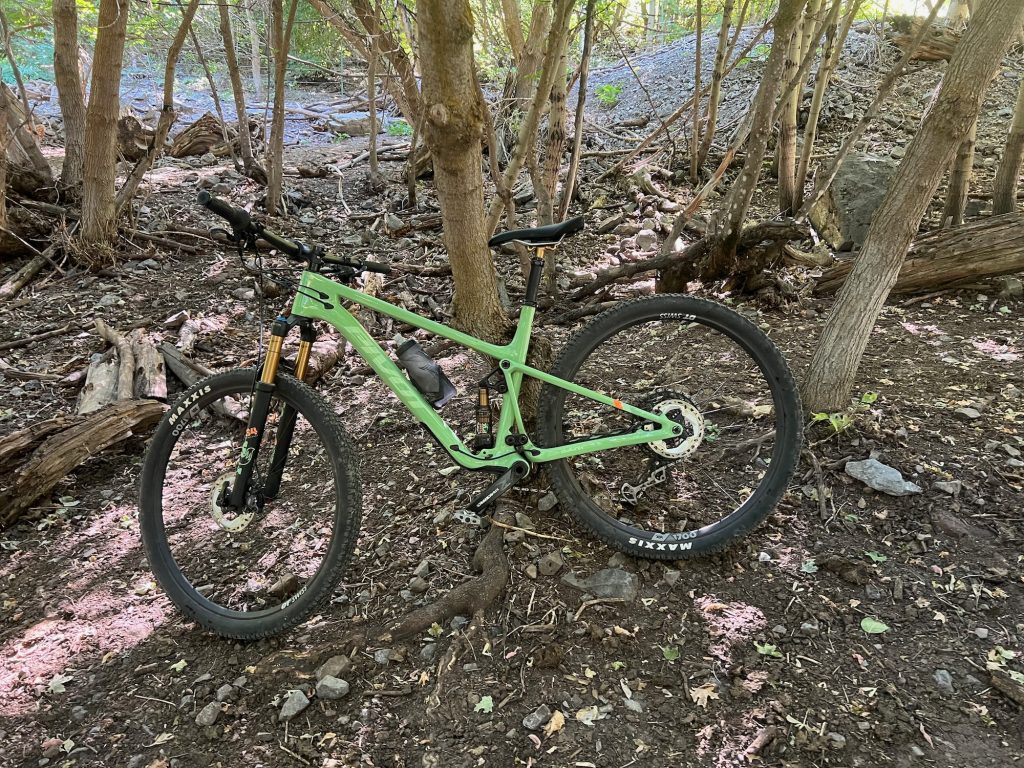 I have been considering picking up a lightweight XC bike for those days when I really want to push it on the climbs. My first tryst was with the Pivot Mach 4 SL. I'm used to spending my days on the beefy Ibis Ripmo. The Mach 4 comes is a good 5 or 6 lbs lighter. That might seem like a big deal and I've read many a forum post with the admonition to "just loose a few pounds" and it won't make any difference. Those authors miss the point that the bike weight does actually make a huge difference when it comes to both to playfulness, climbing and when trying to take flight.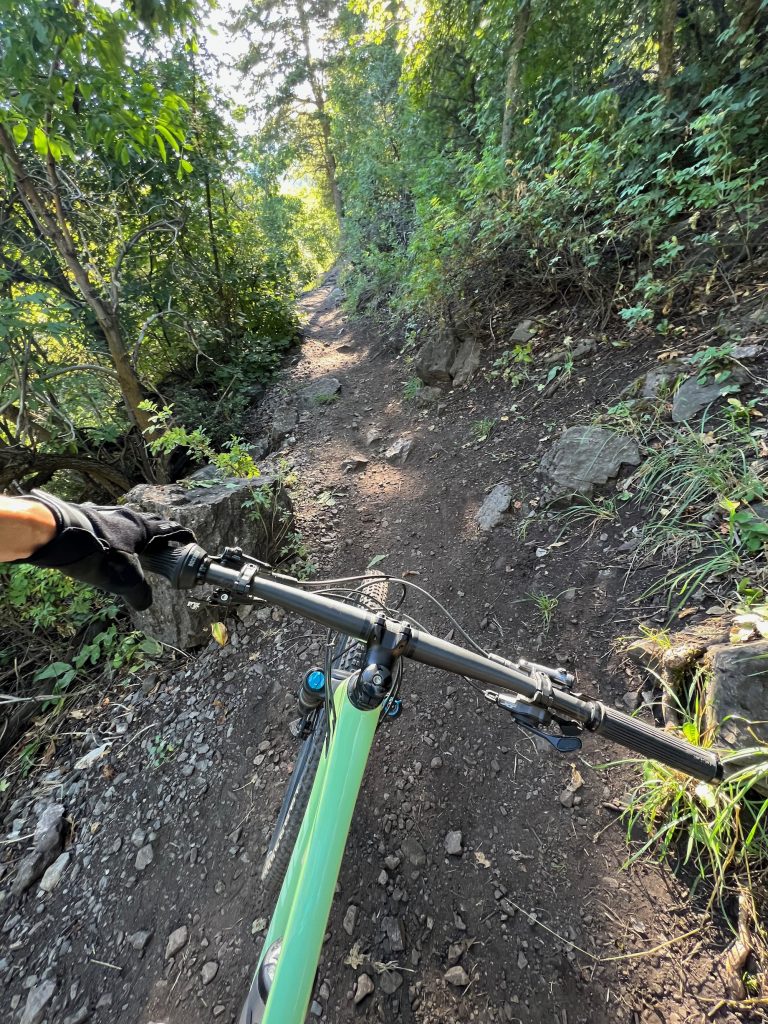 After spending several years carrying the weight of the Ripmo up and down the Mach 4 felt like a missile between my legs. It felt like someone had turned off the parking break during the climbs. I could see pushing this bike hard on the uphill to score some KOMs or at least PRs on Strava. (Not today though. I'm still battling the after effects and loss of conditioning from stupid Covid.) I managed my 3rd fastest time on one segment that covers the trail from top to bottom. That's with stopping several times and without pushing or trying. Again, I can't seem to push my heart super hard just yet.
The Strava verdict:
The Mach 4 SL is a cross country bike and was setup with cross country tires. I typically ride on Assegai that claw into the trail. They don't slip. The cross country focused Maxxis Rekon Race are definitely more comfortable on a well defined race course than in the moon dust and marbles common on the Utah trails this team of year. That being said they roll fast going up and down. Just don't push them hard in the loose and expect them to break free and spin over some of the chunkier stuff on the climbs. Providence Canyon does have a few short technical sections to climb and the featherweight Mach 4 handled them beautifully. I was pleasantly surprised how capable the short travel bike handled climbing over rock and tree root. It felt like a feather on the long, less technical sections to the point that I was surprised just how fast I could push it without feeling like I was going to vomit. It fast and dare I say fun to spin it up on the ascent. It never felt sluggish. If it's possible to be playful while climbing then I would say this bike might actually fill me with just a little joy even as my quads burn hauling my butt up the canyon. I liked it a lot.
With the less grippy Rekons and short 120mm front and 115mm back travel I did not have high expectations for the descent. Just a short while into the large drops at the very top loop of Providence Canyon changed my mind. Instead of being a white knuckle fear for loosing my grip while bottoming out the suspension kind of experience, the Mach 4 served up a platter of playful bouncing and reasonable control. If Tigger could manifest as a bike I suspect it would be a Mach 4. Too bad they don't offer custom paint :-). I'm not a former BMX rider and since I'm old and don't heal very fast I typically ride pretty conservative. However, I was compelled to launch the Mach 4 off of every jump and bounce it off a few trees. This is a fun and playful bike. It's easy to get it into the air. It's easy to flick it back and forth through the corners and turns. It's fast. It's fun. If you have the engine it has the ability to get you onto the podium or earn the Strava KOM or achieve whatever glory you are seeking.
If I were to buy this bike and ride it in the mountains surrounding Cache Valley I would swap out the tires for something a little grippier. I feel it would be blasphemy to go with something as aggressive as Assegai but maybe something like the Forekaster while adding a bit of weight might also add a bit of grip and confidence. I was riding an XT build with alloy hoops. If I picked one of these it would be an XTR or XX build with carbon hoops and so that would help balance out the few extra grams on the rubber.
Pivot Switchblade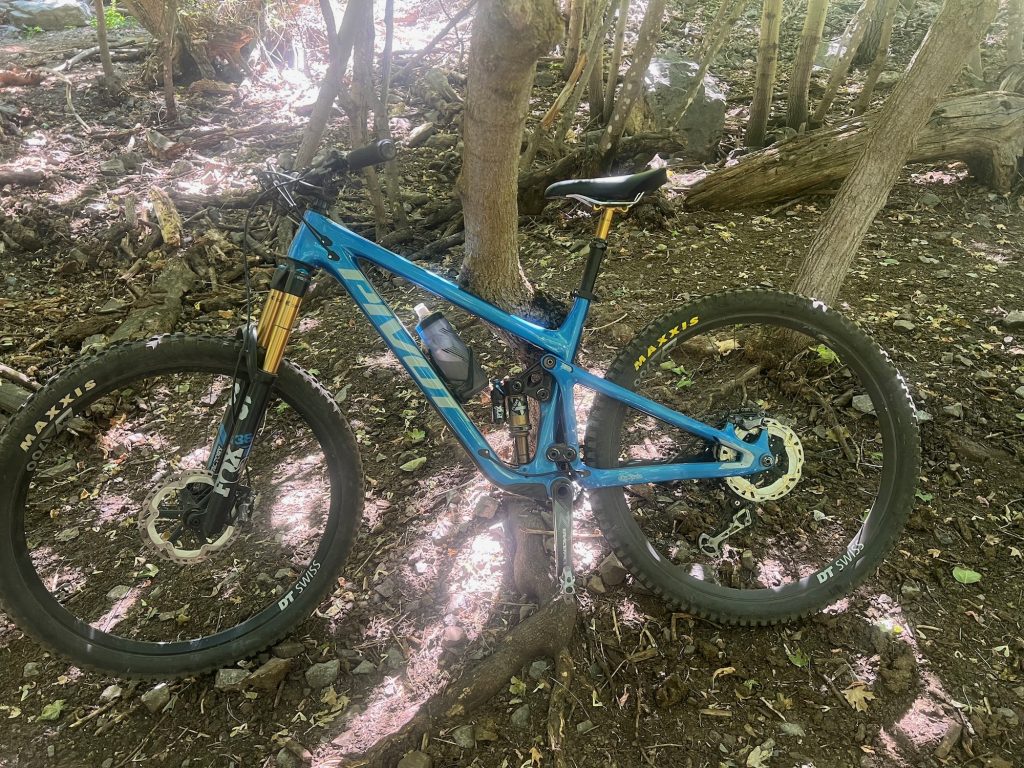 While waiting for the Pivot 429 to come back I sat chatting with Aaron, the owner of Speed Mountain. He recommended the Pivot Switchblade as a good choice for an all mountain bike. I asked if there was one available and lucky for me one was sitting there in my size. I had 50 minutes before the next rider's reservation so off I went.
I didn't intend to ride the full loop but I made it to the top with time to spare and I was glad to have the chance to run the Switchblade through the full gamut of climbs, bumps, rocks and jumps. It handled everything just fine but felt a little numb. The Switchblade is a capable longer travel bike but I found it mostly boring. It wasn't precise like the 429. It lacked the playfulness of the Mach 4 SL. I think this bike is in a similar category as the Ripmo. It's possible the pure, dark, aggression of the Ripmo has spoiled or changed me. On days when you feel like smashing things the Ripmo will bring the sledge hammer. I feel like the Switchblade would just show up. It's not bad. It's just not thrilling. If you are looking at this category of bike go with the Ripmo.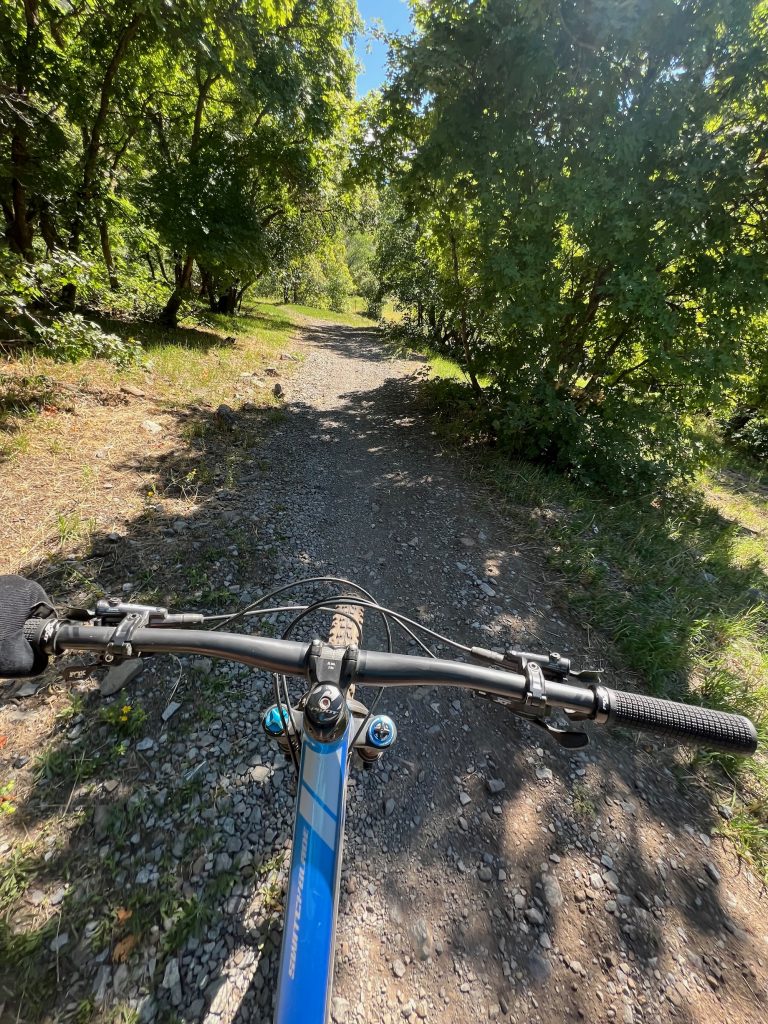 On a side note the Switchblade spent the trip down smashing into the back of my calves. My lower legs are wider than some and the rear triangle did not agree with me. That might have jaded my review a bit on the descent. There's no way I could buy this bike and be happy just due to the discomfort to my anatomy.
The Strava results:
Pivot 428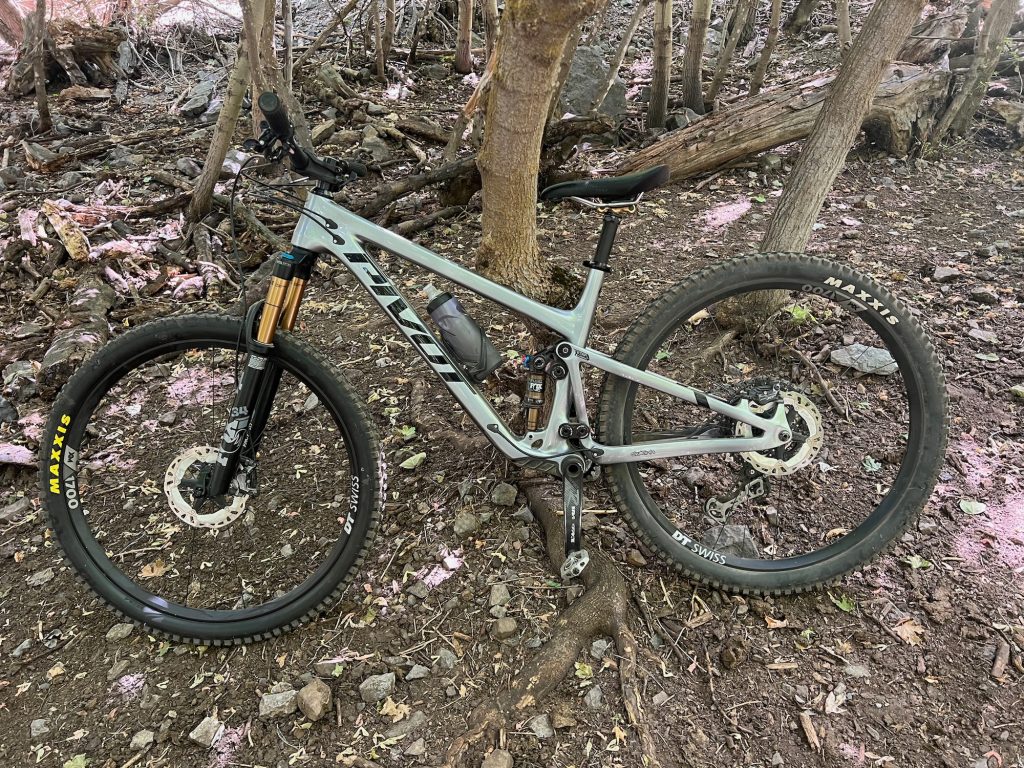 If there is such a thing as love at first ride . Climbing up and dropping down on the 429 I felt a zen like experience that I haven't felt in a long time. The 429 reads your mind, holds a perfect, steady line and still leaves you with an adrenaline rush.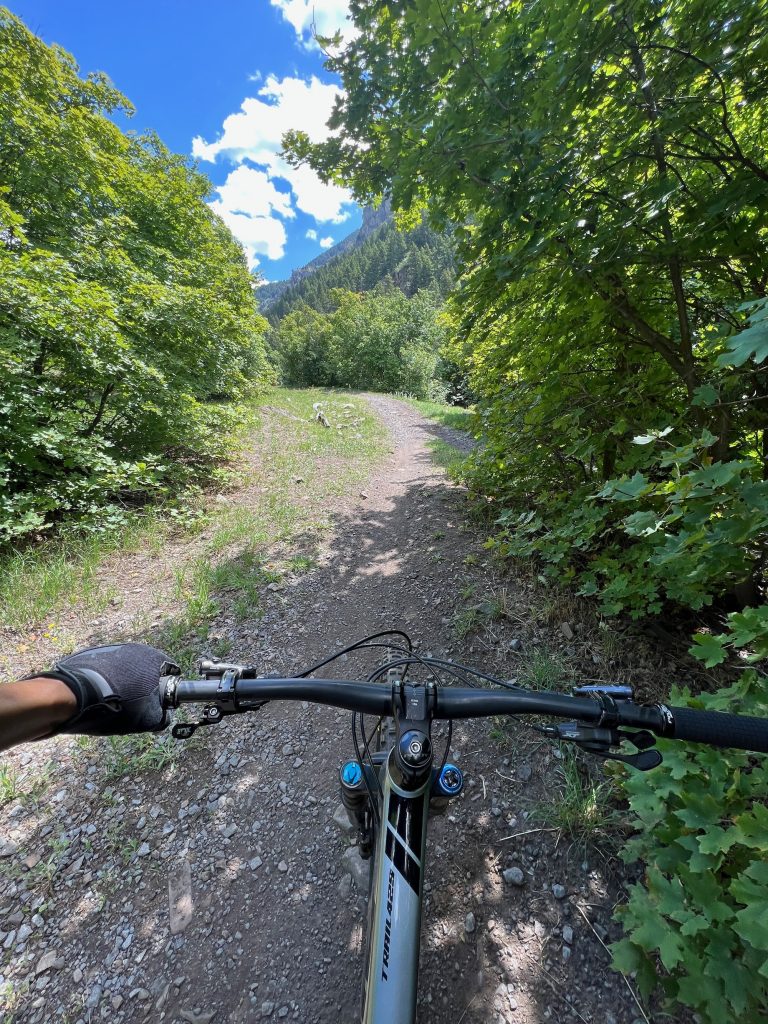 I made my third ascent up Providence Canyon on the 429. The sun was high. It was hot. I was turned. My quads were whiny. I recaptured my local legend status :-). That's a lot of riding and I was tired. It could easily be assumed that my exhaustion would contribute to a negative experience on the bike. To the contrary, I like to know how a bike feels at the end of a long ride. I log a lot of miles. I ride on days when I'm burned up and probably should just stay in bed. If a bike feels amazing when you feel like something from the south end of a cow then it's a good bike. When you are at the end of your glycogen reserves the 429 is forgiving and gentle. It handles just as well going slow as it does fast. The climb has plenty of rock that requires a burst of wattage to get over, but somehow on the 429 it didn't feel like I had to push quite so hard. It was easy to climb even the technical sections without max effort.
The descent was no less amazing with the 429 ascending into the air almost as easily as the Mach 4. Landings were light footed. Throwing the Pivot 429 into the corners is fun and exciting. This bike is flickable, playful and lots of other fun, MTB slang words. While not as light as the Mach 4 this steed is stable without being boring. The 429 is such a perfect trail bike that I almost whipped out my credit card at the bottom to take one home. Only the threat of living alone after my wife found out about my spending habits kept me from adding another two wheels to my collection.
If you are going to buy one bike from the Pivot fleet and ride it everywhere it should be the 429. I loved this bike so much.
Strava says:
Ibis Ripmo V2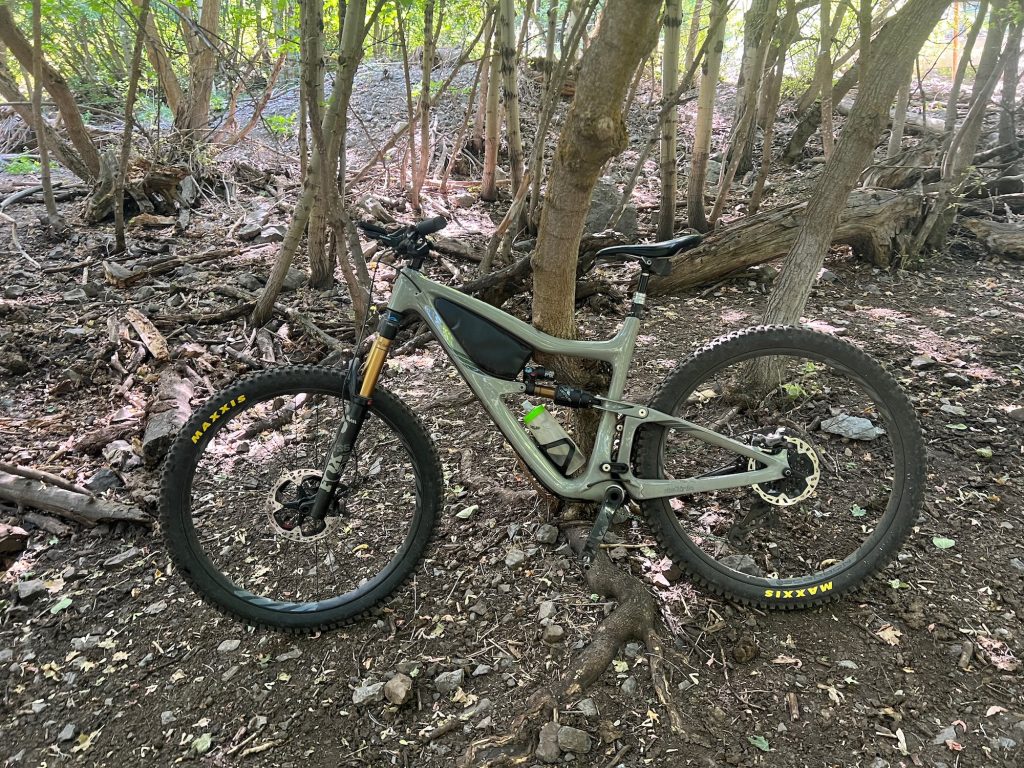 I have to include my control ride in the line up. I've ridden the Ripmo for several years and I've written about it before. My first impression wasn't great. My second attempt went a little better. I've learned to get along with the Ripmo and it is truly an amazing bike. It's more aggressive than anything I've ridden. Everytime I get nervous when I'm dropping off something scary or into something intimidating I just remember I'm on a Ripmo and I let the bike take care of it. It won't fail you.
The Ripmo does extract a toll. It is heavier so expect to pay a wattage cost on the way up to enjoy the benefits of all that travel on the way day. It is harder to get into the air than it's sibling the Ripley or Pivot 429. Achieving flight requires speed or power or both or a chiseled core that would earn you a spot in an action hero movie. Know that when you hit the ground it will grab into the dirt and keep you tearing in whatever direction is down. As long as you are OK with the occasional quarrel and can pay the climbing toll the Ripmo won't disappoint you.
One of many Strava on from the Ripmo
Ibis Ripley V2
I don't ride my old Ripley often. I've turned it over to my son and venturing out on my old riding companion means changing pedals. I hate changing pedals. Even so I wanted to get out on my now 7 year old Ripley V2 while the memory of riding the Pivot 429 was fresh in my mind. The Ripley was the first 29″ bike I fell in love with. Even with age this bike still has style and ability that transcend the years.
What surprised me was, even after 7 years, how similar it was to the 429. The 429 was definitely a better bike. The slacker, modern geometry of the Pivot 429 contributes to a more stable and slightly more precise platform than my old Ripley. However, the Ripley is still a joy to ride. Even though the Pike has aged, it has aged very well. After getting thrown around a bit on the climbs I remembered that I could totally adjust all the things and a few tweaks later the Ripley was once again climbing like a dream.
I bring my old Ripley to the conversation to remind myself that I don't always have to go out and buy every new thing even though I really like to. The old stuff still works pretty well.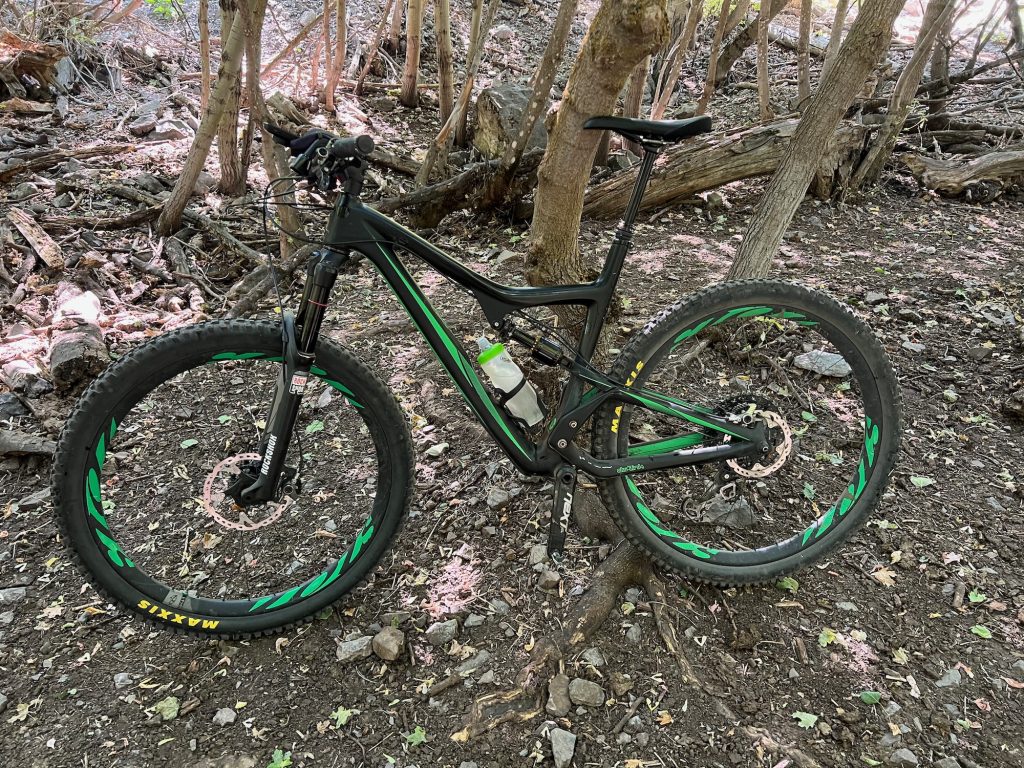 My first Strava on the Ripley in a while
Summary
If bike were dogs the Pivot Mach 4 SL would be a Greyhound. It's fast. It's fun. It's capable in every situation. I had a great time on this bike. If you want to win at any cost then buy this bike. The Pivot Switchblade was like a German Sheppard. A loyal, capable companion with a fierce streak when you need it. Sadly, I didn't have as much fun on this bike but it was capable on everything Providence Canyon can throw against it. If you want an all mountain bike with lots of travel this is a reasonable choice. The Pivot 429 is the Golden Retriever of the bike world. This bike would make a loyal, fun companion in any situation. Don't expect a lot of aggression from this steed. Do expect fun. Expect a bike that feels like it is reading your mind and anticipating your every move. This has to be one of my favorite bikes ever. If you only have the funds to buy one bike (and really how many $10k bikes can you buy) then buy this bike. It can do everything and do it well.
On a side note if the Ripmo were a dog it would be a Pitbull. It is worthy companion as long as you are familiar with it's temperament. It's an aggressive, tear up everything bike that given the chance would eat the other bikes. But this bike if you want to rip more :-). It's fun but temperamental. It also happens to be on sale all over the place right now.
If you live in Cache Valley and you want to acquire a Pivot I highly recommend a visit to Speed Mountain. For all your Ibis needs Joy Ride bikes is a great shop with great guys.
Here's a list of products mentioned in this post. If you click those or the links from the article and buy something I get a tiny commission. It supports my bad biking habits but won't cost you anything. It's like a give from the big retailers.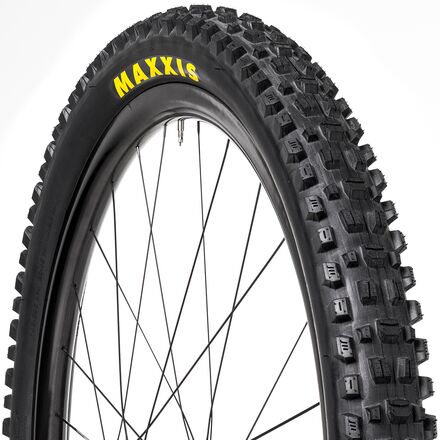 Maxxis Assegai Wide Trail 3C/EXO+/TR 29in Tire – Components